Maintenance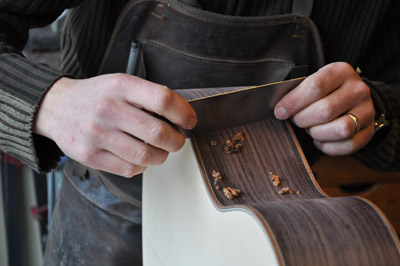 The care given to your instrument will have a big effect on its appearance, the sound, and its longevity.
It is advisable to have your guitar checked every 2 years.
Humidity
An acoustic guitar is made up of relatively thin panels of wood. It is because of this that the wood of an instrument vibrates at the plucking of a string. These thin panels also make the instrument sensitive to changes in humidity. As the wood loses moisture it contracts, as it absorbs moisture it swells. This expansion and contraction of the wood is the source of most of the problems a guitar is likely to encounter.
To minimize the damage linked to relative humidity, the relative humidity of the workshop is kept stable between 40 and 45% with a temperature of 20 degrees Celsius.
I recommend the use of a hygrometer and humidifier to control air humidity particularly in winter with the use of central heating and summer with air conditioning.
The guitar will remain in perfect working order in conditions that are 5% below and up to 10-15% above those in which the instrument was made.
The Varnish
French Polishing applied by hand is the ideal finish. Its thin coat and natural transparency highlight the quality of the instrument. It is also easily repaired which is a major factor in the longevity of the guitar.
It is however a fragile finish and won't protect your guitar against knocks. Avoid also direct contact with skin. The natural acids present on the of the surface of the skin can degrade the varnish. I advise a light cleaning of the guitar with a clean and soft white cotton cloth after playing. 
The Fingerboard and Frets
It is necessary to clean the fingerboard and protect the wood once a year. I recommend using carnauba wax. An unprotected fingerboard is at risk from cracks.
The contact of the string on the fret will also wear down the metal over the years which is often compounded by a light deformation on the fingerboard (due to climatic variations). For optimal ease of playing and sound quality these problems can be rectified with a fret dressing and set up.